Windows 8.1 has an inbuilt feature that allows you to delete the Windows Update files, the security updates and the hotfixes. This is easily accessible through the Disk Cleanup feature in Windows 8.1. But Windows 7 had no such feature and you had to manually delete those files, which was not an easy task.
But Microsoft recently came up with an update for Windows 7 SP1 devices which adds this option. The update "KB 2852386" is available from Windows Update or can be download from the Microsoft's Knowledge Base. After the installation, go to your Windows installation drive, right-click on it and choose "Properties". Then choose the "Disk Cleanup" option and there you will find a new item named "Windows Update Cleanup". In my case there were 1.66 GBs of Windows Update files, that were taking up unnecessary space. To delete these files, you need to check this item and press the "OK" button.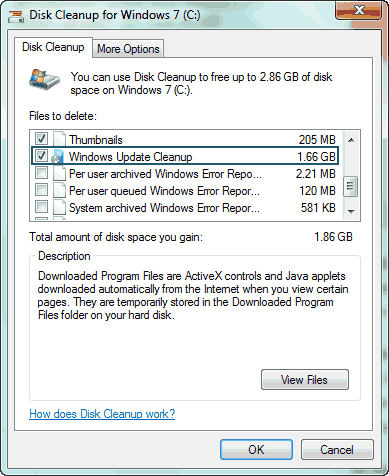 NOTE You will not be able to uninstall some of the updates you have currently installed on your machine. Since this is not required in most of the cases, you can use this safely. But don't do it just after installing any update(s), because there may be some update you would like to uninstall.