Earlier we talked about a service called Right Inbox which was used to schedule emails on Gmail. Now the service has been updated and can even track your sent emails. The tracking here means that you can come to know when your sent email is opened by the receiver of the email. Not only this, you can also come to know when any of the link in your email has been opened. This service is available only for Google Chrome and Mozilla Firefox.
How To Track Your Sent Email :
1. Go to 
Right Inbox
 . (Skip steps 1,2 and 3 if already installed)
2. Click on install now and give all the permissions.
3. After successful installation, go to Gmail and login to your account. Now Right Inbox will ask for permissions, grant all the required permissions.
4. Now try to compose an Email, you will see a button named "Track" as shown in the screenshot below. Whenever you want to get notification of your email being opened, just enable the "Track" button. Scroll below to watch a video which shows Right Inbox in action.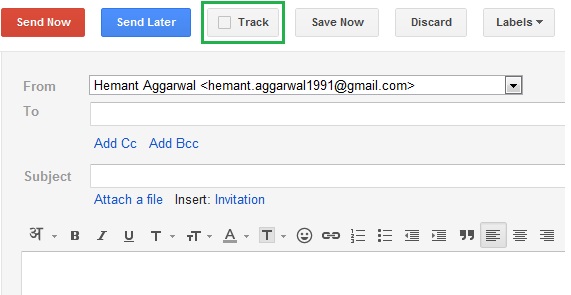 Note : You will always get a notification email whenever your tracked email is opened or a linked in it is clicked. Also, the service is free right now but will be chargeable after sometime. So take advantage till it's free.
A sample video showing Right Inbox in action
Get
Right Inbox